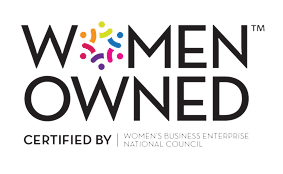 Bipartisan boutique government relations firm Ferox Strategies is thrilled to announce its certification as a Women's Business Enterprise (WBE) and a Woman-Owned Small Business (WOSB). Ferox, founded by senior political strategist and government relations expert Cristina Antelo, earned the coveted designations from the Women's Business Enterprise National Council (WBENC) and the U.S. Small Business Administration (SBA) in early 2020. "I'm proud of Ferox's success as a woman-owned, woman-led small business," said Antelo. "Our field is extremely competitive, but we are going toe-to-toe with larger firms and thriving."
Ferox is not just woman-owned, but proudly woman-managed. With Antelo serving as founder, Principal, and CEO, Chief of Staff Lucia Alonzo also keeps the firm running at top efficiency. "Our amazing clients stick with Ferox not just because of our effective advocacy, but our outstanding client service. Keeping our clients happy is the staff's top priority each day," Alonzo said.
Ferox Strategies has grown dramatically since Antelo launched the firm in late 2017, earning recognition from Bloomberg Government as a top-earning new lobbying firm in 2018; The Hill also named Antelo among its Top Lobbyists "Hired Guns" for 2019. Ferox added its first Republican Principal, Mark Williams, a Capitol Hill veteran, in 2019.
Ferox's bipartisan professionals have cultivated close ties to women and other diverse members of Congress and executive branch officials as policymaker diversity grows. "The current Congress is the most diverse ever, bringing more women than ever to Capitol Hill, and the 2020 election will bring even more," Antelo said. "Clients who partner with Ferox know they're getting up-to-date, culturally competent, and most importantly aggressive representation in the Beltway and beyond."
About WBENC: WBENC is the leading third-party certifier of businesses owned and operated by women, with over 12,000 WBENC-Certified WBEs. WBENC-Certification is accepted by more than 1,000 corporations representing America's most prestigious brands, in addition to many states, cities and other entities. WBENC is a 501(c)(3) nonprofit organization. www.wbenc.org.
About Ferox Strategies: Ferox Strategies is a boutique government relations firm that takes its name from the Latin word for "fierce," reflecting the firm's values of determination, dedication, and aggressive advocacy for our clients. Ferox's bipartisan team of government relations professionals offers clients decades' worth of policy and advocacy experience paired with the tenacity of a start-up firm. www.FeroxStrategies.com